Our products are all unique. Your wooden watch as well as the pinewood box can be made even more unique with a personal message engraved on them. Make your timepiece special by engraving your initials, an inspirational quote or something meaningful and dear to you. 
Personalizing a watch with an engraving will add a sentimental value to the watch. It can also serve as a perfect gift that will capture a memory forever! Whether you want to memorize an important date or an inside joke, share warm wishes with a friend or family, or write a personal message for your loved one, this is a great chance. An engraved WoodWatch is a perfect gift option for milestone occasions such as:
●  Birthdays        ●  Weddings        ●  Anniversaries        ●  Graduations        ●  Corporate Events
With our high precision laser engraving machine, we will add an extra personal touch to your accessory and your gift. Look sophisticated and give gifts that matter!

Wooden Watches
On the back of the watch, it is possible to engrave a personal message of up to 60 characters. The process is simple - there is a "DESIGN ENGRAVING" button on each product page. Simply click the button and wait until you see the sketch of the backplate. Then either choose one of our creative text suggestions grouped by themes or make up your own text for engraving. Please note that when you order a watch with an engraving, we need some extra time to prepare it for shipment. This usually takes 1 business day.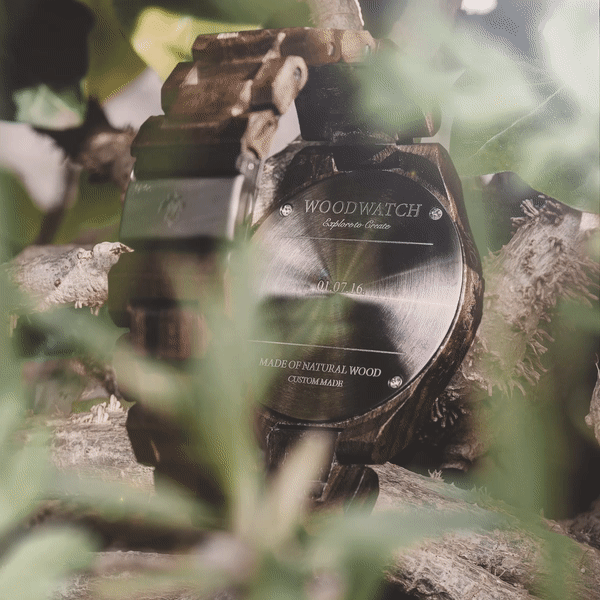 Pinewood Gift Box
Our hand-made pinewood watch box can also be engraved with a personal message of up to 450 characters. The personalized wooden box will make your gift stand out! In order to add it to your order, please go to your cart page and choose the respective packaging option ("Pinewood box with engraving"). Don't forget to type your message in the box below and hit "Add Engraving".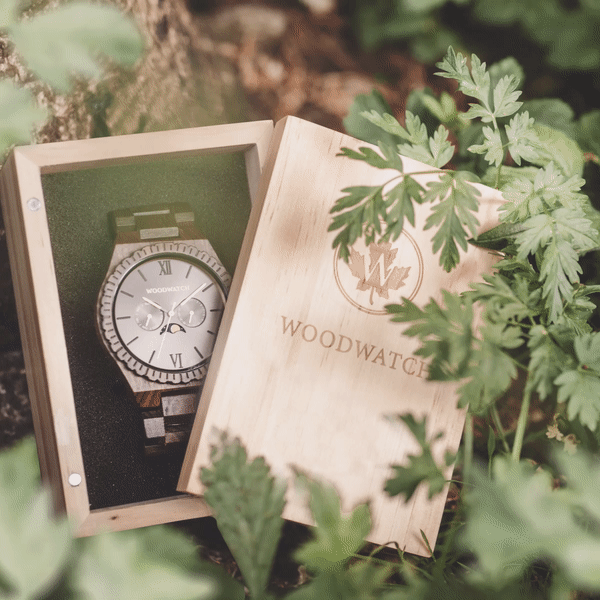 Please double check your spelling and capitalization as we will engrave exactly what you put in the engraving text field. If you have noticed a mistake after placing your order, contact us as soon as possible.
Would you like to engrave something special? Then contact us so that we can work this out with you. This can be done by chatting with us via the icon at the bottom left, or by contacting us HERE. If you want to engrave something in bigger quantities (for example as a business gift), please visit this page.
FAQ 
Below you can find some of our most frequent Q&A's that might help you to make up your mind! In case you want more information, please visit our FAQ page or contact us HERE.
Are the watches made of real wood?
Yes, they are. The wood we use originates from all over the world and is selected using several criteria. Our top priority is to be sustainable and to deliver high quality products to our customers.
The different kinds of wood used are indicated on the product pages of the different watches. More information about the different types of wood that we use is available on our WOOD TYPES page.
Will the watch fit me?
Yes! The size of your watch can be adjusted by removing some links from the strap. This is easily done by a jeweler, a watchmaker, or yourself. Your delivery will include several screwdrivers that you can use to easily adjust the strap yourself. Your watch can always fit you perfectly!
Returns of products with engraving
Returning an engraved watch is possible within 30 days from the day of receipt. After informing us about your return decision, you have 14 days to return the product. Note that the engraving price will not be refunded. Also, the shipping costs of the return will be the responsibility of the customer unless there is a manufacturing error or a product defect. In case you wish to exchange the watch and want to add engraving on the backplate of the new watch, you should pay for the engraving price. 
Warranty
Every product is produced with an eye for quality, both on the workmanship and the materials that are used. Before a product is sent out, it has undergone multiple tests to ensure a high grade product quality. From the date of delivery the product is warranted for a period of no longer than two years. Please note that products bought before 15.08.2019 have a one-year warranty period. 
This limited warranty can only be used if the product is used in accordance with the care and operations instructions. Any damage to abnormal usage and wear are not covered by the warranty. Moreover, WoodWatch will not be responsible for loss or damage connected to the use of its products, nor the life of the battery. The batteries are replaceable.
If you have a warranty claim, then file a support ticket HERE or email us at [email protected]. If the warranty claim is approved we will repair/replace the product. Return shipping will be reimbursed in the following manner:
For customers within Europe the return shipment is covered by us.
For customers outside of Europe the return shipment is covered by us up until €15 if the defect was reported to us within 90 days of your original order. For the reimbursement we need a copy of the receipt of shipment.